Flaar 5.7e boat project
The cooperation of the Enterprise Group and the FLAAR Performance Sailing resulted Flaar 5.7e RIB, which is the first electric prototype boat, which was designed based on Enterprise Smart Power.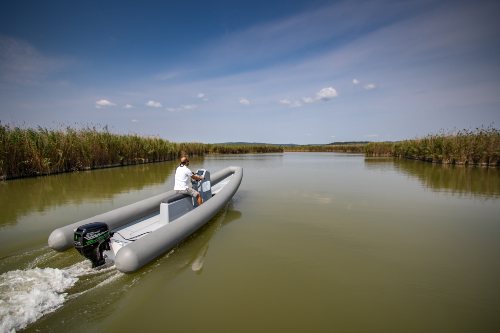 Flaar Engineering Design and Service Ltd. has been designing and manufacturing boats and other composite products for more than 10 years. Flaar 5.7 is one of the newest RIB powered ship, which can be made of fiberglass and carbon fiber composite.
By the design of the new low-resistance hull the criteria of electric propulsion was taken into account specifically. The Flaar 5.7 is also available with a Suzuki fourstroke engine or electric drive. The fuel tank / battery is placed underneath the deck so that the center of gravity is in the optimal position, and it does not limit the usable space either. The maximum speed of the electric boat is about 20 knots. At full load, it provides half an hour by battery usage, but with typical use, it can take up to several hours.
Boat
Lenght Overall: 5,71 m
Breadth: 2,24 m
Displacement (w/o engine): 240–340 kg
Engine: outboard - Aquawatt Green Racing/Thruster 22/26 kW
Maximum speed: 32 km/h (18 knots)
Range: 50 km (in economy way)
Maximum persons: 6
Battery
Model: Enterprise Smart Power ESP-80-12,5
Energy: 12,5 kWh
Nominal Voltage: 80 V DC
Maximum Continuous Discharge Current: 350 A
Battery charger: 9 kW (3×16 A) controlled charging current
Charging time: ~ 90 minutes (fast charging)
Installed Dashboard
Information: boat energy and navigational datascreens
Size: 7" TFT-LCD
Resolution: 1024×600 pixels
IP Protection: IP65 (front)